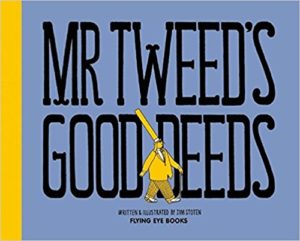 My daughter picked out a true gem at the library last week. We read Mr. Tweed's Good Deeds again and again and then again some more.
The picture book follows Mr. Tweed as he helps his friends find their lost items. In fun, Where's Waldo-type illustrations, readers will find balloons, mice, fish and much more. My son enjoyed how the author/illustrator, Jim Stoten, increased the items with every search. It actually had the appeal of an interactive game.
Mr. Tweed's Good Deeds is not only entertaining, but it can also spark conversations about doing good for others, as well as inspire young children to improve their counting skills.
If you're hunting for a book for your children to enjoy this summer, search no further.
Happy reading!!