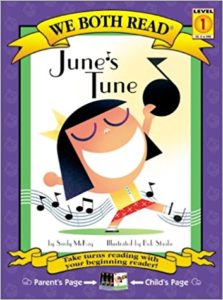 This week, out of the gazillion picture books at the library, my children and I brought home June's Tune. This sweet book is all about a young girl, June, trying to decide on words for her new tune.
The delightful book is full of bright colors and silly ideas. From flute-playing dragons to cake-driving brides, the zany story will undoubtedly entertain young readers.
I also like that the vocabulary is simple enough for beginning readers, yet the storyline is action-packed. That can be tricky to achieve.
If you haven't dropped by your local library, you should! It can be a fun excursion and a great way to escape that summer heat!
Happy reading!!