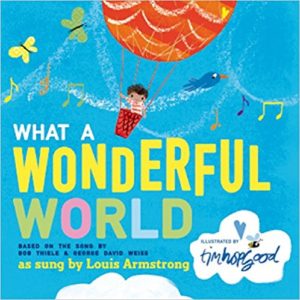 Every so often, a picture book comes around that truly changes our world for the better, and I would hands-down put What a Wonderful World by Bob Thiele and George David Weiss in this exact category.
The words in this story are the lyrics to the song of the same name made enormously famous by the unmatched Louis Armstrong.
I still can't believe my children and I get the privilege of both singing the words, as well as soaking up every beautiful stroke by the uber talented illustrator Tim Hopgood.
The words are of hope and love and so much that really does make this world wonderful.
If you are in the market for a picture book, and one that will entice you into storytime as much as your children (if not more, even), this book needs your shelf. Like yesterday.
Happy adventures in reading!!!